Posted by trules in "the poet and the con", american culture, annihilation, art from the fabric of my life, genocide, jews, nightmares
on May 7th, 2014 |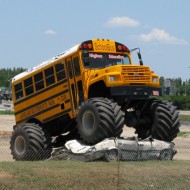 may 3, 2014 it's another nocturnal and nefarious crime caper. naturally, i'm with my uncle harvey, the black sheep of the rosenberg clan and "the con" in my documentary film, "the poet and the con". we've stolen a bus. not ken kesey's bus. no merry pranksters here. something like the team bus for the lakers, or maybe the ascendant LA clippers. but donald sterling's not on the bus. who the fuck would want that scumbag, racist b-ball owner, after the un-civil comments he made this past week that inflamed the whole multi-cultural nation? certainly not...
Posted by trules in academia, ageing, american culture, annihilation, art, art from the fabric of my life, baby boomers, bobos, charlie chaplin, culture, death, gardening, gratitude and appreciation, jews, los angeles, nightmares, teaching, theater, when i'm 64, wizard of oz
on Feb 21st, 2012 |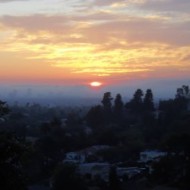 look to the right, exactly 90 degrees from the terraced hillside back deck of lucretia gardens, and there are — the san gabriel mountains — gently looming over the hazy glendale flats. turn 180 degrees back to the left and there's — the glassy silver rim of the pacific ocean, dividing the big sky of another multi-colored california sunset from the slightly high-rise sprawl of snarky century city and the equally-hazy flats of LA's toney west side. turn back another 90 degrees to the right, and there, straight ahead, is the white dome of the griffith observatory, the shrubby...