Posted by admin in ageing, american culture, art, art from the fabric of my life, baby boomers, bali, culture, death, dieing, life, theater
on Oct 20th, 2012 | 1 comment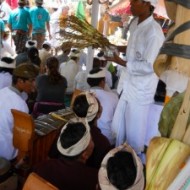 "act 3", you know, of a play? it follows its 2 predecessors: act one, which brilliantly sets up what's at stake for the protagonist. followed by act two, in which the play develops with tension & suspense as it builds in "rising" action, when finally, you have, "act 3", the climax and resolution of the play. if it's a good/happy ending, the play is called a comedy; if it's a not so good, bummer of an ending, the play is called a tragedy. in either case, act 3, the "falling" action and… the end of the play. now being a college theater professor for the last 26 years, i...
Posted by admin in academia, ageing, american culture, annihilation, art, art from the fabric of my life, baby boomers, bobos, charlie chaplin, culture, death, dieing, gardening, gratitude and appreciation, griffith observatory, jews, life, los angeles, lucretia gardens, nightmares, pacific ocean, san gabriel mountains, teaching, theater, when i'm 64, wizard of oz
on Feb 21st, 2012 | 5 comments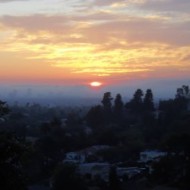 look to the right, exactly 90 degrees from the terraced hillside back deck of lucretia gardens, and there are — the san gabriel mountains — gently looming over the hazy glendale flats. turn 180 degrees back to the left and there's — the glassy silver rim of the pacific ocean, dividing the big sky of another multi-colored california sunset from the slightly high-rise sprawl of snarky century city and the equally-hazy flats of LA's toney west side. turn back another 90 degrees to the right, and there, straight ahead, is the white dome of the griffith observatory, the shrubby...