Posted by admin in academia, ageing, american culture, annihilation, art, art from the fabric of my life, baby boomers, bobos, charlie chaplin, culture, death, dieing, gardening, gratitude and appreciation, griffith observatory, jews, life, los angeles, lucretia gardens, nightmares, pacific ocean, san gabriel mountains, teaching, theater, when i'm 64, wizard of oz
on Feb 21st, 2012 | 5 comments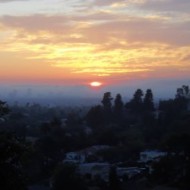 look to the right, exactly 90 degrees from the terraced hillside back deck of lucretia gardens, and there are — the san gabriel mountains — gently looming over the hazy glendale flats. turn 180 degrees back to the left and there's — the glassy silver rim of the pacific ocean, dividing the big sky of another multi-colored california sunset from the slightly high-rise sprawl of snarky century city and the equally-hazy flats of LA's toney west side. turn back another 90 degrees to the right, and there, straight ahead, is the white dome of the griffith observatory, the shrubby...
Posted by admin in ageing, american culture, beatles, culture, death, dieing, friendship, gardening, life, los angeles, old friends, vegetables, when i'm 64
on Sep 14th, 2011 | 18 comments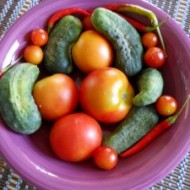 one of the true, inalienable gifts of the end of summer is the harvesting of home grown garden tomatoes. bright red, succulent, juicy-delicious, it's a gift that actually comes in all shapes, colors, and sizes: the  omnipresent heirloom, the muscular beefsteak, the green zebra, fuzzy peach, red boar, the hillbilly, grape, plum, campari, even the diminutive cherry. all can be planted easily in the spring, watered abundantly through the brunt of summer, and ultimately & gloriously harvested, often, thru the end of september. personally, i can't think of anything much more satisfying than...