Posted by admin in ageing, clay the dog, death, dieing, family, friendship, gratitude and appreciation, LA dog beaches, obituaries
on May 13th, 2013 | 0 comments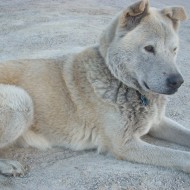 It ended the same way it began. On a hard, linoleum-covered wooden floor. Me lying next to Clay, the Dog. Comforting him at the very beginning. And comforting him again at the very end. Clay, my homeboy companion. My escape artiste extraordinaire. Clay, the canine outlaw of Echo Park. The cat killer and coyote enforcer. The sweetheart and heartbeat of Elysian Heights. Clay, the Dog, who is no more. I remember the first night on my brown-diamonded, linoleum kitchen floor, high above the lowlands of trendy Echo Park, that locals used to call "Red Hill" (for its Commie-leaning, rabble-rousing...
Posted by admin in academia, ageing, american culture, annihilation, art, art from the fabric of my life, baby boomers, bobos, charlie chaplin, culture, death, dieing, gardening, gratitude and appreciation, griffith observatory, jews, life, los angeles, lucretia gardens, nightmares, pacific ocean, san gabriel mountains, teaching, theater, when i'm 64, wizard of oz
on Feb 21st, 2012 | 5 comments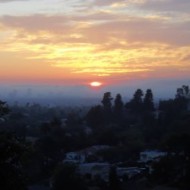 look to the right, exactly 90 degrees from the terraced hillside back deck of lucretia gardens, and there are — the san gabriel mountains — gently looming over the hazy glendale flats. turn 180 degrees back to the left and there's — the glassy silver rim of the pacific ocean, dividing the big sky of another multi-colored california sunset from the slightly high-rise sprawl of snarky century city and the equally-hazy flats of LA's toney west side. turn back another 90 degrees to the right, and there, straight ahead, is the white dome of the griffith observatory, the shrubby...