Posted in Uncategorized
on Jun 11th, 2006 | 0 comments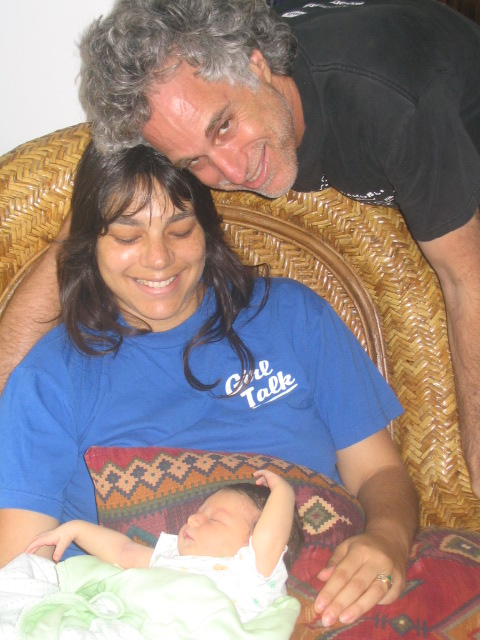 the great and generous taj mandela became a dad for the first time at age 52 on june 5th, 2006. his almost 9 pound daughter, laila pearl, was delivered safely and miraculously by midwife at five in the morning in pasadena, california, to mother, natasha, after a long and safe home birth.
you know how you have this core kernel of friends? a group of 4 or 5 of you that grow up together? bond together. go through the fire of time and place together. you could have a few kernels, a few different places. maybe one from childhood. another from high school. yet another from college, work, the baseball team, the neighborhood, the last theatre show you did together. sort like extended famlily. like no matter how long you haven't seen any one of them, you just pick up like in the middle of a sentence, like it was just yesterday.
well taj in one of the prime kernels of our LA corn on the cob. he is the most generous, gregarious, outgoing, and social of the kernels. you might say he is colonel mandela. we wouldn't much exist without taj. he calls us, keeps in touch, has the annual holiday party. when his wife has her baby shower, he organizes the "last childhood schvitz" and we all soak naked in the bohemian hot tub in the wilds of echo park.
so it is with much enthusiasm and curiostity that i share this remarkable event with the blogosphere. this act of optimism, blind faith, and courage. to become a father for the first time at 52. the time that most of the male species is moving closer to, or has already settled into, granparenthood. young mandela gives up a full-time job and opts for becoming a home dad. like john lennon. at age 52, he's first learning how to grow tomatoes, be a decent husband, and grow a laila pearl.
mucho congratulations!!!!!!!!!!!!!!!